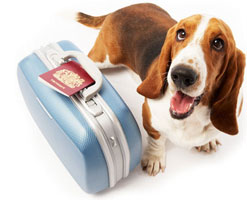 After two recent pet deaths, ABC News is reporting that the Department of Transportation is considering new rules for airlines when it comes to transporting animals.
The three major changes they have proposed are the following:
The new rules would expand the reporting requirement to U.S. carriers that operate scheduled service with at least one aircraft with a design capacity of more than 60 seats.
The rules would expand the definition of "animal" to include all cats and dogs transported by the carriers. Currently, only owned pets are reported on. Deaths of pets that breeders transport do not have to be reported.
The new rule would require carriers to provide annually the total number of animals that were lost, injured or that died during air transport during the calendar year, including exotic animals being transported between zoos.
Still, with all these changes, the Department of Transportation encourages you to keep your pets off planes. "Air travel is a risk to your pet's health and well being. Our goal is to promote the health and well being of animals and these two things are not compatible."
Original artical can be found at PawNation.com
here.