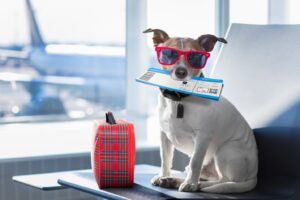 Contracting a professional pet transportation service, like TLC Pet Transport, Inc. is a popular choice for people relocating across the country. And for snowbirds traveling from one home to another in the winter months. But if you decide to travel with your pets, we have provided these safety tips for you. It can be quite hectic to travel with your pets if you are not prepared. And it can become even harder if your cat or dog gets sick in route or is elderly or hates traveling. How do you deal with such a situation?
We are here to assist you in finding the answer to this question. There are some tips and guidelines that may help you immensely to travel with your pets without any mishap or hesitation.
If you plan to get on the road with your pet family, below are some suggestions to help.
Prepare before Traveling
To make your road trip with a pet successful, you need to make sure that you are fully prepared. Check if your pet is up to date on vaccinations, parasite control and worming before getting off to your trip. If you are going to move to a colder climate, then keep the essential clothing items. If you are going to a hot or humid climate, your dog might appreciate a haircut.
Keep the Essentials for your Pet (What to Pack?)
Check the following list of essential items that you should pack if you are traveling with a pet:
Food
Bowls
Kitty litter and pan if you are traveling with a cat
Leashes
Your pet's favorite toys (take at least 2 to 3 toys)
Bedding
Disposal bags for droppings
Collars with identification and/or chipping
Refills of your pet's regular medication
Ensure that Your Pet is Safe inside the Car
You should never leave a cat or dog inside a hot car with the windows cracked. It takes just seconds for a vehicle to heat up to the danger point. To ensure the well-being of your pet inside a car, you can use a metal crate with excellent ventilation, a secure door and enough room to move about. Or you can use a harness and a seatbelt. If you plan to get on a long journey, try to avoid feeding your pet a big meal right before traveling. Also, you should stop every 3 to 4 hours for potty and exercise breaks.
Practice a Few Short Trips with your Pet Beforehand
Another great way to make your pet comfortable while traveling is by practicing before starting your journey. You can start this practice about a month before your actual travel plan. Take your pet to the grocery store or shopping mall to get him or her comfortable with the moving car. Getting your pet accustomed to traveling is a must. Because once your trip begins, if your pet should start vomiting, they can become dehydrated quickly. You should seek medical attention immediately. To prevent boredom, you can take your pet's favorite toy along or a chew bone to keep them busy. Research suggests that you should start traveling with your pets when they are young.
Get your Water from Home
You should always get water bottles from home if you are traveling with a pet. That is because drinking from an unfamiliar source can cause many health issues for your pet, including an upset stomach. So keep some extra water bottles to make sure that you have sufficient water to last throughout the journey. You can also buy water bottles if your pet is accustomed to drinking a certain brand's water. And NEVER leave you and your pet's drinking water in a hot car. This causes bacteria to form in the water.
Carry Your Pet's Important Documents
Carrying your dog's or cat's documentation is crucial if you are planning to take a trip across our beautiful USA, crossing state lines. California and a few others will ask to see proof of vaccinations before allowing you into their state. You will need to provide a pet's health certificate and proof of rabies vaccination to travel with your pet from one state to another. For international travels, you should check if you need to carry any other legal documentation to take your pet along. A pet passport is available and excellent documentation for your pet to have. Conducting your research and making sure that you have all the documentation will allow you to travel with your pet without any hindrance.
Check the Destination Rules for Pets
Imagine being on the road for hours, and when you finally reach your destination, you get to know that your pet is 20 pounds over your hotel's weight limit for pets.
To avoid such a situation, you should review your hotel or Airbnb's regulation about pets before starting your journey. If you want to take more than one pet with you, then confirm it with the hotel first. Knowing that someone you know stayed at that hotel with their pets is insufficient. So make sure that your destination rules comply with your interests and needs.
Expend Some of Your Pet's Energy While Traveling
To guarantee that your pet stays calm and easy while traveling, you can expend some of your pet's energy during the trip. There are many ways to give your pet an opportunity to break a sweat, such as playing a game of fetch, interactive playtime, and taking long walks. There are beautiful rest areas across the country that offer the opportunity for this. But please do not forget about your kitty that might also be in your vehicle.
Get some Calming Medication for your Pet
This technique to keep your pet calm while traveling requires you to be extra cautious. You should not use any kind of medication (not even a few drops of essential oils) for your pet without first consulting with the vet. If the vet approves, then you can use calming medications to ensure that your pet stays tranquil throughout the road trip. Also, do not forget to test these medications a few days before your journey.
Be Prepared for Emergencies
By staying prepared for emergencies, you will be able to handle any kind of situation while traveling with your pets. Before getting on the road, be assured that your pet's microchip or identification information is up-to-date. To make it easier, you can install apps like Pawprint to retrieve your pet's medical information any time you want. This information will become handy in case your pet encounters any health issues while traveling. You can also buy a GPS tracker to locate your pet in case you get separated.
Conclusion for Safety Tips when Traveling with Pets
Traveling with your pets does not need to be hectic and complicated. Hopefully, following the guidelines suggested above can help make your journey both fun and pleasurable for you and your pets.