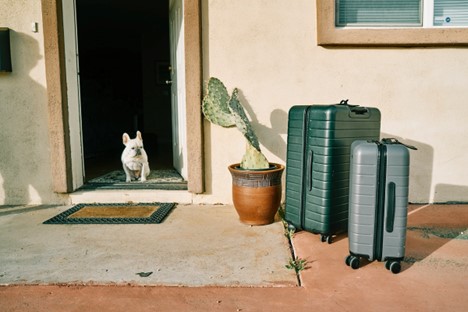 Relocating with pets is stressful for both you and your pets. You're stressed and occupied, handling stuff, taking care of yourself and your furry pals. And your four-legged friends are distressed by the chaos that accompanies.
The hustle and bustle and the change in their environment cause them to become anxious. Some animals are so sensitive to changes in surroundings that they may develop severe health issues like inflammatory bowel disease.  It may even lead to serious anxiety and depression.
This, in turn, will not only be mentally stressful for you and your family. But it will also burden you physically as you'll have to rush your pet to the vet now and then.
We've compiled this guide to help you avoid the hassle altogether. If you take the measures listed below, the entire process of relocation will become much easier for you and your pet.
Buy a Carrier 
Pet carriers can help a great deal in calming your pet. We recommend buying a pet carrier or kennel weeks before you move. It will help your pet get accustomed to it. And when you move your pet with it, it won't feel as anxious and panicky.
Also, it's a good idea to buy a spacious carrier. Ensure that it's big enough to allow your pet to stand up straight without hitting its head on the roof of the carrier.
Lining the insides of the carrier with a soft blanket or cushioning can make it shock and jerk absorbent. If you're traveling to a different city, state, or country, make sure you line the insides with something soft. That's because you'll be too busy to handle your pet's carrier with extreme care all the time. Any slight negligence may lead to serious injuries. Therefore, you should take precautionary measures.
Book Pet-Friendly Hotels
If you take your pets along in an environment that doesn't welcome them, you're going to sign up for immense trouble. Your pet will not only get uncomfortable, it may even attempt to escape from the place.
For that very reason, we suggest booking Pet-Friendly Hotels. These hotels have pet beds as well as a secured environment that doesn't let small animals escape easily. Overall, the ambiance is such that it'll make your pet feel welcome and thus, lift off stress.
Conduct a Few Test-Runs
In case you keep your pet indoors all the time, traveling itself can be a huge change for your pet. So, it's a good idea to take your pet on outdoor walks and car trips a few weeks before you relocate. Notice their reaction to their traveling experiences and make preparations accordingly.
Some animals get sick every time they go out (especially if they're new to the whole traveling idea). So, you might need to prepare an emergency kit for your trip.
It's also a good means of experimenting and verifying what soothes your pet. We recommend trying:
Toys: As your pet begins to panic, distract it with an interactive toy. Check out if it calms your furry pal.
CBD products: CBD lifts off pet anxiety and stress. Try giving CBD gummies and chewies to your pet. Assess if it has any consequences on your pet's health (try cbdoilireland.ie for the best of products).
Leash: Experiment with keeping your pet by your side with the help of a leash as you travel. Observe if it helps your pet stay calmer or pushes it deeper into anxiety.
Book Direct Flights
Direct Flights can cut down the overall stress you and your pet have to put through. It will reduce the waiting time during transit periods. Plus, it'll reduce the chances of any damage or hurt that your pet may have to endure during the manual handling of cargo on connecting flights.
Arrive at the Airport Earlier
Most airlines allow only a certain number of pets per cabin. So, we recommend reaching the airport early. Just in case there are too many people with pets, you should ensure you reach first and do not have to be the one leaving behind their pet.
Hire Pet Transport
If you're not sure whether you'll be able to safely transport your pet with you, it's best t you entrust a professional pet transport service. These can transport pets by land and air from one destination to another. Although these can be a bit costly, it's worth every penny if your pet's safety is at risk.
Final Words
All in all, traveling with pets isn't a piece of cake. You and your pet both will have to do a bit of homework. But it's best you prepare beforehand so as to avoid any last-minute issues and discrepancies.
Written by Arslan Hassan