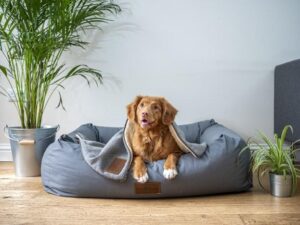 https://unsplash.com/photos/s9Tf1eBDFqw
Staying with a pet can help your mental health, but when you move, you can experience greater stress levels as you have to care for yourself and your pet also. Research shows dogs experience anxiety, especially when brought into a new environment. If you spot changes in your pet's behavior, it could be a sign of stress because their daily routine and environment have changed.
To manage your stress and that of your pet when you move to a new home, consider the TLC of a dedicated pet transport service like TLC Pet Transport, Inc. Here are more suggestions for a painless transition.
Preparation
Preparing for your move-out is an important step. Organize your moving boxes in a single room to ensure your pet doesn't scratch or chew things. Also, pack your pet essentials in a separate, labeled bag. You must take these with you to make it easier to handle the pet. Some items you should bring with you for your pet include their favorite toys, poop bags, a few things for the dog to chew, leash, water bowls, a crate or pet carrier, and food. If you're preparing for a cat, introduce them to their carrier by keeping treats inside and making the space cozy with a blanket.
Keep Old Routines
When you get to the new home, don't introduce drastic changes. Getting your pet adjusted to a new home requires effort as the animal will need to learn and re-learn a few things, including the different spaces and amenities available to them. If your dog gets up and runs to the yard, eats breakfast, then goes for a walk, don't stop this when you relocate to your new home. However, if you must change things because of a new job or living arrangements, try to maintain as much of the old routine as possible. Once your pet settles in, you can introduce additional changes, which will be easier to handle.
Don't Get New Gear Right Away
It's natural to get new stuff for your new home, but for your pet's sake, don't buy new gear right away. Leave your pet's stuff intact until they're settled in the new home. Yes, it sounds nasty to keep your fur-covered dog bed, but these things comfort your dog, so don't take them away. If you feel you must get your pet something new, it should not be to replace anything existing and beloved — maybe just some toys to add to their collection.
Lots of Love
A dog's ability to bond involves forming an emotional attachment than understanding what humans want. Give your pet attention and spend time with them playing and walking. The problem is that you could be overwhelmed with many details because of your new environment. Ensure your pet never feels excluded in the new environment. If it's a cat, keep them indoors for some time. Be available as much as possible to make them comfortable and to avoid separation anxiety.
Moving on a Budget
So what happens if you want to move to a new state on a budget? If you are yet to find a new residence and have friends or family in the area, ask them to host you for a few days as you review local employment and housing options. Do check that they can accommodate your pet comfortably, as well.
When relocating, you don't only plan to move items — you must also plan on accommodating your beloved pet in a strange, new environment. This will ensure your pet settles into your new home comfortably and quickly and maybe avoid anxiety altogether. TLC Pet Transport can help you do exactly that. Get in touch for a quote.