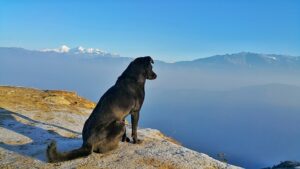 Photo via Pixabay
Traveling with a pet can be tons of fun, especially if you have a dog. Pooches are usually up for excitement and are willing to try just about anything with you, making them a perfect travel companion. The benefits of sharing your adventures with your dog are numerous, but one of the best is that he can help keep you motivated to work out and stay active as you travel.
All dogs love to run, play and get exercise, but it's not so easy for us, especially when we're on vacation. From hiking to swimming to sightseeing, there are several easy ways you can stay fit with your canine companion during an adventure.  Look for workouts you can do anywhere, such as yoga, climbing or standing-in-place exercises. The best thing about traveling, however, is that you come across some really interesting places that have a built-in workout, such as a kayaking tour or a gorgeous hiking trail.
TLC Pet Transport presents some ideas that can help you stay fit with your dog!
Utilize 'do-it-anywhere' workouts
Yoga, squats, stretches and deep bends are great ways to get your heart rate up and keep your joints and muscles healthy, and they can be done almost anywhere. Utilize these exercises when you can, whether you're in the park or an empty parking lot. Yoga Journal explains that you can even teach your dog some yoga moves; just be patient, and allow Fido to try them in short bursts before moving on to the next pose.
Use what's at hand
Travel can take you to some lovely places, and often, there are tools nearby that you can use to get active, such as a kayak, a trail, a bicycle, or a steep staircase. Use what you have at hand to work up a sweat, and make sure that your pup has the proper safety equipment just as you do. Reflectors on bike wheels, a helmet and gloves, and a backpack full of supplies will go a long way toward helping you stay safe, but what does he need?
For starters, water, especially if the temperature is high. Bring along a brightly-colored or reflective collar so Fido can be easily spotted, along with socks or boots for hiking. If you're riding a bike, consider bringing a doggie bike trailer along. These trailers are available in many sizes and will keep your pup safe when he's riding with you.
Play games
No matter where you travel to, it should be fairly easy to play games like fetch and Frisbee with your dog. Bring along a ball or two, or find a couple of good sticks if you want to pack light. The best part about spending time with your pet outdoors? Both your dog and the environment can help lower blood pressure and reduce stress, so you're doing yourself a favor by playing for a little while.
Go jogging
Taking your pup for a walk is great exercise when done daily, but unless he's speedy, it won't really do much to get your heart rate up or burn calories. Consider jogging while you're out together, especially if you happen to be in an area where there's a long stretch of sturdy road or a strip of beach. To keep track of your heart rate and calories while you're out and about with your pup, consider getting a fitness tracker or smartwatch. If nothing else, it may serve as motivation to get you and your dog off the couch!
And when it comes to keeping items like your smartwatch and other valuables safe while traveling, have a game plan in place before leaving home. This should include being able to access funds, especially if you're traveling abroad, say, to Canada or Mexico. If something unfortunate happens and you find yourself without cash, your time away can turn into a nightmare. So set up an account with an affordable and reliable money transfer service like Remitly, which, for example, allows you to collect funds from 21 banks and more than 40,000 pickup locations in Mexico.
Know when to let Fido sit out
If you're planning an epic destination adventure trip, you can enlist the services of trustworthy pet travel experts like TLC Pet Transport to have your beloved pet meet you there. And because TLC wants to ensure that your dog enjoys their trip to your destination, our drivers will attempt to find lakes, trails, and parks along the way so your pet has an opportunity to stretch their legs and enjoy a little quality time in the sunshine.
Then again, although there are a lot of ways to incorporate your pup into your active time on the road, it's also important to know when to leave him behind. If you're taking an hours-long excursion that's dangerous or simply too exhausting for your pooch, it's best to leave him behind. Just as you can do when you're at home, you can find a pet sitter online who can watch your dog at his or her home.
If you're staying in a home via a site like Airbnb, you can also ask a dog walker to drop by once or twice while you're out, though you should check with the owner of the home you're staying in to make sure they don't mind another person coming over.
Staying fit while traveling can be difficult, but with your dog there to motivate you, it should be no problem at all. Look for ways you can stay active together on the road, and remember that safety always comes first. With a good plan, the two of you will have a blast and stay healthy no matter where you are.
TLC Pet Transport is dedicated to providing the safest and most reliable pet transportation for your family pets. Reach out to us today to find out more! (859) 428-1677