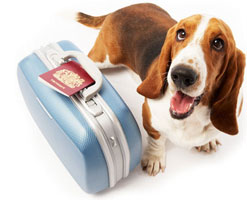 You cannot afford to leave anything to chance when it comes to your pets' health and happiness. This is why we have established ourselves as the providers of a first-class Animal Shipping Company, specializing in dog shipping and cat shipping with the highest of standards and care for the animals. We were created to fulfil a genuine need for this service, and continue to maintain the highest quality of pet shipping you could wish for. We are motivated by a simple desire to get the job done in the kindest and most gentle way possible to ensure the happiness of your pets.
Since 2001 we have been safely transporting your pets across the US, responding to feedback and building the most popular national Pet Shipping Business in America today. Because of our caring approach to animal shipping, we have continued to enjoy repeat custom and referrals from satisfied customers. The approach we take is that while we run a professional service, we make your pets feel comfortable and at home for their journey. This involves talking to your pets, ensuring the right heating and air conditioning during the journey, and taking regular breaks for exercise and refreshment.
We work closely with qualified vets, and our drivers are trained to deal with any special medical requirements your pets may have. Having the necessary details for each pet, together with reliable systems in place and caring staff, we can guarantee the best service for your loved ones at every stage of the journey. The vans we use are modern, frequently updated, and are customized for our service. They have windows for your pets, good environmental control systems and are comfortable yet secure. Pet shipping can also be arranged in families where required.
If you have any questions or are ready to book our service, please contact us today either by phone, email or by completing the online contact form. You can also request a quote online, and you can pay via PayPal through our website. We work hard to ensure your Dog Shipping and cat shipping requirements are straight-forward and very positive experiences with us. Our animal shipping experience across the country means we can be very specific when arranging the departure and arrival dates. Even coast to coast across the US will take just four days, and if you wish we can keep you up-to-date with progress with regular reports. This well-organized system and attention to detail helps to give both you and your pets peace of mind at every stage of the process. We are always prepared to 'go the extra mile' as they say, as we know your pets will appreciate our efforts as much as you do. We also enjoy positive reviews and recommendations, and also seeing repeat customers whenever people need our services again.